Product Overview
Reduce the spread of airborne viruses and bacteria
Dental Facilities
The Problem:
Without the use of personal protective equipment and other additional safety measures, dentists and oral hygienists pose a huge risk in contracting airborne viruses and bacteria from their patients during routine cleanings or dental procedures.
These activities often include high speed dental drills that have propelling force. The force from this drill used in combination with a water spray, generate airborne particles consisting of saliva, blood, tooth debris and dental plaque, all of which can be a vessel to transmit these viruses and bacteria.
Lastly, dental offices have a lot of equipment in their operating rooms and cleaning rooms which does not leave too much space for any more equipment.
Ruwac's Solution:
Ruwac's APOSE (Aerosol Point Of Source Extraction) System captures airborne particulates at the source (the oral cavity) preventing the transfer of viruses and bacteria from the patient to the dentist or dental hygienist as well as other surfaces and equipment in the room.
This is achieved with an extremely quiet and powerful vacuum producer that is located centrally in the building, ideally in a mechanical room. The vacuum will be piped with tubing to up to three operating rooms where there will be a localized "aerosol arm" with a flexible hood that captures aerosols during dental procedures.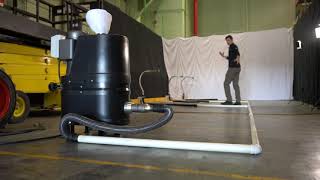 APOSE Overview Video
What's Included in the Package?
WSA300H: 300 CFM vacuum extractor with HEPA filtration (single phase power)
(3) "Aerosol Arms" with extraction hoods for localized aerosol collection and containment

(3) flexible stainless steel arms
(3) 3′ flexible hose connector to connect arm to tubing
two options for collection head

72′ of PVC tubing with elbows and connectors to make the tubing diagram in the print above

We even provide the pipe cement!
custom solutions available for your specific building
The Extractor Breakdown:
A) Carbon Impregnated "Indestructible" Oval Composite Housing
– Fully conductive and will never dent, crack or rust! GUARANTEED FOR LIFE
B) Superior sound suppression
– Silencer provides quiet operation while keeping motor cool during operation
C) Ruwac Exclusive Multi-Stage Maxflo Turbine
– Produces more suction using less horsepower
– Designed for continuous 24/7 operation
– Long lasting 15,000 hr run time with
– no maintenance required
D) Fully enclosed TEFC continuous duty motor
– Class II Division 2 groups F & G
E) HEPA MAXX filter
– 99.997% efficient @ 0.3 microns
– Oversized MERV 18
– External visual guage for replacement indicator
Benefits of Ruwac's Solution:
vacuum located centrally in building and piped to desired rooms via tubing

prevents clutter in operating rooms
suppresses sound for extremely quiet operation
reduces heat in the operating rooms

one package provides solutions to three operating/cleaning chairs
single phase power eliminates the need for additional electrical expenses
hands free and effective localized aerosol containment with HEPA filtration

captures viruses and bacteria right at the source with 99.997% efficiency
Specifications
Specifications
*Specs subject to change without notice
Aerosol Vac
Motor Rating:
Power:
AMPS:
CFM:
H20":
Filter:

RFQ

:
TEFC Three Phase Motor (5 Hp)
220/1/60
19.5 AMPS
300 CFM
84" H20
HEPA MAXX
Request a Quote
Features and Benefits
Features and Benefits
• compact extractor design with quiet operation
• vacuum goes in mechanical room and gets piped into dental spaces with tubing
• 220/1/60 single phase vacuum ideal for most commercial buildings
• includes vacuum, tubing and three "aerosol arms"
• the arms mount onto any table, chair, etc
• provides localized, hands-free, aerosol removal from oral cavity
• includes HEPA MAXX filter - efficiency is 99.997% @ 0.3 microns
• captures and contains viruses and bacteria